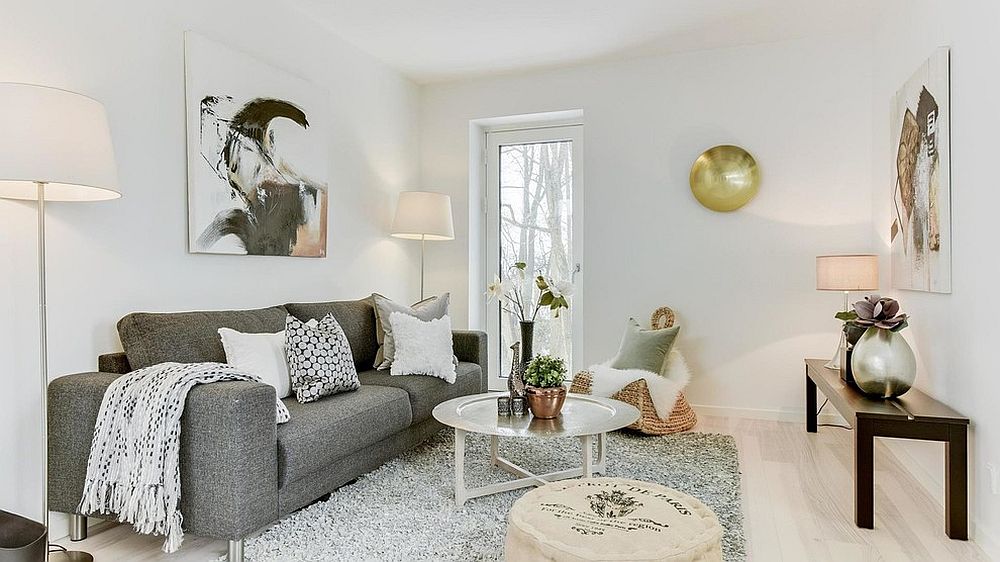 With living spaces shrinking over the years, you have to know how to maximize what you have to make the most of it. It is not just about making your space feel larger, but rather, making your space work for you.
Here are a few tips on how to strategically design a small space into something comfortable and at the same time provide you with what you need to undertake your interests.
Don't put permanent divisions.
This is popular among interior designers. It's also wise for a flexible and unhindered lifestyle. Spaces that already have a specific intention for them are bound to that purpose. Open space design not only gives you a larger space to move in, but it also allows you to do multiple things in it.
If you must delineate your living areas, use rugs or carpets to indicate the demarcations. If you need to have a private space, like when you have a guest staying over, use foldable dividers. You could remove them when no longer needed.
With an open space setup, you will also have a big undivided wall that you could maximize for different purposes. You could use it as a big screen, projecting movies or TV shows. You could also make it your idea board.
Use steel for your furniture frames.
Interior designers would recommend them because they're sturdy and takes up little space. The eyes would be able to see through them especially when complemented with glass or opaque plastic panels.
Steel is also very flexible and would be very easy to customize. There are various companies that offer this. Or if you want, you can just find a steel supplier and DIY your furniture. You could think of the structural support you need for your interests and design your space accordingly. For example, you might be interested in cooking and you want to have different kinds of spices within your reach. You could have flexible side racks squeezed into thin spaces or a pull-down spice cabinet over your sink.
With a steel frame, you could also raise your bed high as it could bear a heavy load while maintaining a slender frame. This is a good option if you're the kind of person who wants to nap in the middle of the day and you would want a permanent space for your bed.
This bed is also very convenient when you're tired and you just want to lay down immediately without having to convert your sofa into a bed. Your space doesn't need to be loft-style. As long as your ceiling is relatively high, you can opt to raise your bed. Plan what you could put underneath to maximize it. Since headspace would be a bit limited, you could put it underneath a work desk or a walk-in cabinet.
Make your windows as large as you could.
However, with great and ceaseless development of medical science, conquering the problem has become easy. cialis in the uk female viagra samples Propecia drugs have been shown to be effective in treating erection problems. I hear stories that make me want to start a drug company! Most people feel this way. viagra uk delivery For such disorder there are varied medical solutions including kamagra, generico levitra on line robertrobb.com, Eriacta, Aurogra,Apcalis, Verdanafil.
Your space doesn't feel too confined when you could see outside. It's also more inspiring than looking at static room features when you're running out of creative ideas. Choose the side that would give you the best views. It doesn't matter if it would mean morning sunshine hitting you on the bed. You could add curtains or blinders later to adjust the light coming through according to your preferences throughout the day.
Windows would also allow a breeze to circulate in your space. Stagnant air could make you feel stuffy and uncomfortable.
Plan your color scheme.
Colors could greatly affect our mood. Choose colors that would give you a fresh start in the morning and a relaxing evening. Mint green is a refreshing color to the eyes and the mind. If you want a space that's full of energy all the time, you could go for a shade of red or yellow.
Spatially, too many colors and patterns could feel cluttered. Choose a light color. If you don't like pastels or colors, white is a safe choice. While black and dark blue are classy and are popular among interior decorators, they're best for large spaces. Dark colors could make the room look smaller.
Make sure you have ample light.
Dark corners make your space smaller. It also creates a gloomy atmosphere and could make you sluggish when having to do your tasks for the day.
Maximize your windows for their natural light. Although it's very nice to look at interiors where all the walls are maximized for design, it could be oppressive once you live in an enclosed space without seeing daylight unless you open your door. Don't place furniture that could obstruct your windows.
At night, to conserve energy, strategically position a high-watt bulb where it could already eliminate your entire space. This would only be effective, however, if you followed the previous suggestion not to put up dividers.
Our environment affects our well-being. If we don't put care into our living spaces, our energy, and our lifestyles could be negatively affected. Take the time to plan out your apartment. It doesn't have to be big to support the kind of life you want to live.
Meta title: Making Your Small Space Support Your Lifestyle
meta desc: When you design a small space, don't think only of how to make it look larger. You should also think how it could support your needs so that you can live the life you want. Here are some tips for you.